A change of pace in the studio
I'm teaching this weekend at the South Florida MQG (hooray, I don't have to get on a plane!) and went to the studio to get my stuff together for the classes. BUT I got sidetracked (big surprise). Since it was only Thursday I knew I could get ready on Friday --
so I sat down with my new paints and fooled around, without caring what it looked like when I finished because I was experimenting.
I have about a million small gallery-wrapped canvases (canvi??) I bought to wrap small quilts around. But since I haven't made any quilts between 6"x 6" and 12" x 12" in a few years, I decided I would paint on them (or at least one). I paint the same way I work with fabric - just starting to improvise and seeing where it goes. But it's a lot easier to move the bits of fabric around on the design wall till the composition works than it is to improvise with paint.
So here is my first improvised painting. lol. It looked familiar and then I figured out why: when I was printing silk scarves, I loved to put dots along the edges. But in this case, all those dots at the bottom looked like measles or chicken pox.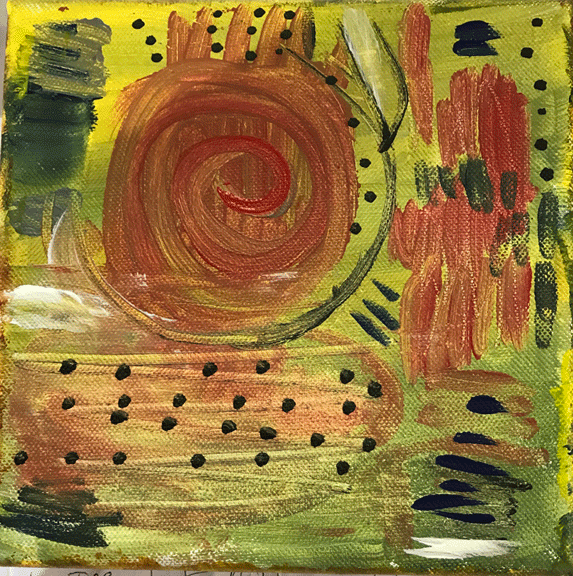 So I covered them up the best I could and then got out my charcoal and doodled. But now that I see it from a distance on my screen, I see a hint of something I did not see close up - so maybe I need to go back in and play a bit. What do you see?
After I made that mess I got out my paper and used up the paint on that surface. I actually like it better than the piece above.
My new fridge came today and it is very lovely. I won't go into the saga of why it sticks out a couple of inches too far -- but it will get sorted out with a bit of renovation on the cabinets above it. When they gave the height measurements they neglected to say there was an inch or so of something attached to the roof of the fridge. Computer components? sigh...
In the meantime, I threw out so much gross stuff from the old fridge that this one looks absolutely empty. We'll see how long it stays that way - but at least I will find a way to organize it so I can find things.
Enough for tonight. In my time zone it is already tomorrow (Friday). If you paint, I'd be interested in hearing your experience with it.