a nonstop week in Pont-L'Abbé
I have finally got a free day between workshops to catch you up! I had a wonderful week with my first group of eight women. The new group has arrived but I want to fill you in a bit before tomorrow.
Just a few photos from the workshop. As usual, I was too busy teaching and chatting to remember to take a lot of pictures:-(.
Here's Nadine hard at work, after having made some triangles. Later, she decided to cut them up.. She has already introduced another color
and has promised to send me pictures when she has finished with her quilt.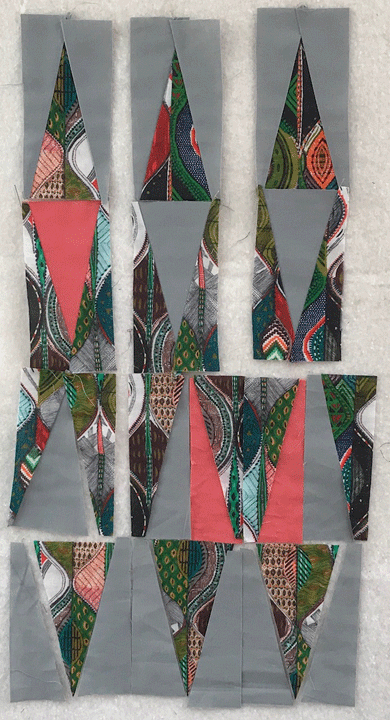 Check out the interesting composition on Valerie's wall. An unusual way of setting those particular blocks, and the black and white work so well with the cinnamon background.
Using neutrals was a challenge and here is Brigitte's combination.
Chantal's triangles turned into a dynamic piece, which became even more dynamic after she sliced the triangles and re-aligned them.
I hope to have pictures of these photos in process at some point. More on my adventures in Quimper, the closest city, when I have another few minutes to post.