As I think I mentioned a while ago, I bought a one-bedroom apartment to use as a studio/overflow guest accomodation. The lighting was poor-to-non existent, the ceiling fan was yucky, and despite that, I set up my tables and worked when I could.The electrician is mostly finished, except for the track lighting and a new ceiling fan that will not be imminently falling on my head. The painters are in full swing, everything is in the bedroom, and the place looks good, empty.
My sewing and ironing tables were against the windows, There was light and I could look outside and wave at everybody who went by (mostly 2 neighbors).
This kept me from feeling isolated -- except that the a/c blew on my legs while I sewed. Now I either have to get a different a/c system or put my sewing table elsewhere in the room. I've been collecting a few ideas from Pinterest -- all of which require $$ and a person to put these things together. My DIY skills are limited and I have carpal tunnel in my left wrist, so it does not augur well.
But here is the latest idea that might work -- except that the idea of facing a wall when I sew does not thrill me. On the other hand, there will be new track lighting there...
Here is my lady in the bedroom, surrounded by all the other STUFF removed. When I put it back, it will probably take me weeks to figure it out. I may solicit your opinion on various layouts.
This afternoon is my South Florida MQG meeting and we are invited to bring quilts made with solids. LOL - I have exactly ONE, which I made for my book.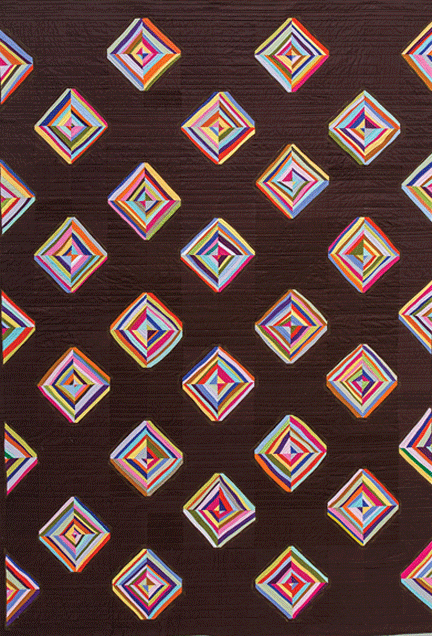 Last night I came across some of my improv "what if" kite blocks that didn't make it into the book. How different they look, depending on the fabrics, the angles at which the blocks were cut, and how they were put together!
This one makes me smile. Funky and whimsical!
Same block, all solids for a more sedate modern look.
Same idea, except with Aboriginal fabrics. I love the idea of modern quilts with ethnic prints! Try it if you have some (I love 'em - now how do I use them??) African,
Indian, or Australian fabrics in your stash. Use them together or mix 'em up with modern prints or solids.
And look what happens when I use one fabric for the triangle, instead of strips -- and put it on a patterned background. NOT that I would ever make a whole quilt with these fabrics - but the concept has possibilities.
Why don't you play around with various combinations and make a few experimental blocks like these?
IN FACT - here's an idea: make a "kite" block or two, using your own "what if?" thoughts. If you have my book, you know what to do. If you don't - here's how:
1) cut 4 or 8 squares of any size (between 4"-6" works well. Slice off a corner (no rulers, please). Fill in the corner with strips or one triangle (as above) and sew the four squares together.
2) send photos to my email address by May 15, 2018 and I'll post them to my blog so you can all see what cool things everybody else is doing!
Wow - I'm already excited about seeing what all of you will do with your blocks. Go for it!